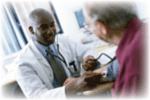 Doctor: Well, when did you first have the problem ? How long is it since you noticed it seemed to be getting worst ? And what do you understand by "heartburn"?
Patient: It must have been 18 months ago when I first noticed it. It was - a rush of stomach acid up into my mouth. That's heartburn, isn't it ? It seems to have got worst this last fortnight.
Doctor: Yes- what describe seems to be heartburn, alright when have you been getting it ? Usually before meals ? Or after ? And have you ever noticed any particular kind of other discomfort or pain, perhaps associated with the heartburn.
Patient: Generally after, and I haven't felt any other special pain anywhere with it, no.
Doctor: Were you say after meals- is that long after or short after ?
Patient: Usually quite shortly after. I do a kind of burp-and this acid shoots up into my mouth. Very unpleasant.
Doctor: I know- I get a slight burp occasionally myself, but only when I've had too much to eat. You know, made a bit of a pig of myself.
Mine's not a chronic condition like you seems to be. But you're not regularly over-eating, are you ?
Patient: No, I'm not, I never. In fact.
聞く