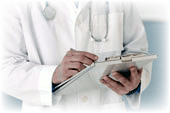 Doctor: Good morning, Mr. Wilson. Good to see you again. What can I do for you today ?

Mr. Wilson: It's about my test result. You said to make an appointment for ten days, and you'd have them ready to tell me about. Have they come back ?

Doctor: Yes, I think so- in fact I'm sure so. Let's just have a look- ah yes... Now Mr. Wilson. I'm afraid it's a little more complicated than we thought. The test we did on your urine and your stool...seem to indicate that....well we need to do some more further tests.

Mr. Wilson: Some more tests? Why, doctor ? What' s wrong ? Is it serious ?

Doctor: Well, it might be slightly. It's too early to say , really - we haven't got enough to go on until we've done some more tests. It's nothing to be alarmed about- just some more routine tests at the hospital itself this time. Just to be sure . Just routine.

Mr. Wilson: Just routine? That's what you said before and now you say I need more tests and deeper ones ! And at the hospital this time. I think you'd better tell me what's wrong now, doctor, before we go any further. I am an adult, you know, I'm a big boy now... you don't need to wrap me up in cotton wool!

Doctor: Alright , Mr. Wilson I take your point. Well, avoiding all the medical mumbo-jumbo, it seems that you indeed have slightly ... abnormal levels of stomach acid. That's what the tests indicate all this stage. More than mere heartburn, in fact. Perhaps going a bit further than that.

Mr. Wilson: How much further? What's really wrong with me ? Stop messing me about!

聞く