レベルチェック

ヒアリングテスト

筆記テスト

ランダムクイズ

会員専用
•振込確認フォーム
•電話で英会話授業予約
•電話英・日時変更

上級テキスト
 PDF

初級テキスト
 PDF

電話英会話テキスト

授業
日自動お知らせ

会員写メール
• お支払い方法
• 電話で英会話FAQ
• 掲示板
• 解約フォーム

その他
• 皆の掲示板
• ヘルプ 

• ゲストブック



Live and learn. 訳:長生きはするものだ.

Proverb ことわざ
THE PEONY LANTERN (by:Shinshichi Kawatake1892 )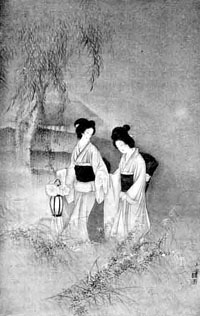 There once lived in the district of Ushigome, in Yedo, a hatamoto (1) called Iijima Heizayemon, whose only daughter, Tsuyu, was beautiful as her name, which signifies "Morning Dew." Iijima took a second wife when his daughter was about sixteen; and, finding that O-Tsuyu could not be happy with her mother-in-law, he had a pretty villa built for the girl at Yanagijima, as a separate residence, and gave her an excellent maidservant, called O-Yone, to wait upon her.

O-Tsuyu lived happily enough in her new home until one day when the family physician, Yamamoto Shijo, paid her a visit in company with a young samurai named Hagiwara Shinzaburo, who resided in the Nedzu quarter. Shinzaburo was an unusually handsome lad, and very gentle; and the two young people fell in love with each other at sight. Even before the brief visit was over, they contrived,—unheard by the old doctor,—to pledge themselves to each other for life. And, at parting, O-Tsuyu whispered to the youth,—"Remember! If you do not come to see me again, I shall certainly die!"

Shinzaburo never forgot those words; and he was only too eager to see more of O-Tsuyu. But etiquette forbade him to make the visit alone: he was obliged to wait for some other chance to accompany the doctor, who had promised to take him to the villa a second time. Unfortunately the old man did not keep this promise. He had perceived the sudden affection of O-Tsuyu; and he feared that her father would hold him responsible for any serious results. Iijima Heizayemon had a reputation for cutting off heads. And the more Shijo thought about the possible consequences of his introduction of Shinzaburo at the Iijima villa, the more he became afraid. Therefore he purposely abstained from calling upon his young friend.

Months passed; and O-Tsuyu, little imagining the true cause of Shinzaburo's neglect, believed that her love had been scorned. Then she pined away, and died. Soon afterwards, the faithful servant O-Yone also died, through grief at the loss of her mistress; and the two were buried side by side in the cemetery of Shin-Banzui-In,—a temple which still stands in the neighborhood of Dango-Zaka, where the famous chrysanthemum-shows are yearly held.
Shinzaburo knew nothing of what had happened; but his disappointment and his anxiety had resulted in a prolonged illness. He was slowly recovering, but still very weak, when he unexpectedly received another visit from Yamamoto Shijo. The old man made a number of plausible excuses for his apparent neglect. Shinzaburo said to him:—"I have been sick ever since the beginning of spring;—even now I cannot eat anything.... Was it not rather unkind of you never to call? I thought that we were to make another visit together to the house of the Lady Iijima; and I wanted to take to her some little present as a return for our kind reception. Of course I could not go by myself."

Shijo gravely responded,—"I am very sorry to tell you that the young lady is dead!"

"Dead!" repeated Shinzaburo, turning white,—"did you say that she is dead?"

The doctor remained silent for a moment, as if collecting himself: then he resumed, in the quick light tone of a man resolved not to take trouble seriously:—

"My great mistake was in having introduced you to her; for it seems that she fell in love with you at once. I am afraid that you must have said something to encourage this affection—when you were in that little room together. At all events, I saw how she felt towards you; and then I became uneasy,—fearing that her father might come to hear of the matter, and lay the whole blame upon me. So—to be quite frank with you,—I decided that it would be better not to call upon you; and I purposely stayed away for a long time. But, only a few days ago, happening to visit Iijima's house, I heard, to my great surprise, that his daughter had died, and that her servant O-Yone had also died. Then, remembering all that had taken place, I knew that the young lady must have died of love for you.... [Laughing] Ah, you are really a sinful fellow! Yes, you are! [Laughing] Isn't it a sin to have been born so handsome that the girls die for love of you? (1) [Seriously] Well, we must leave the dead to the dead. It is no use to talk further about the matter;—all that you now can do for her is to repeat the Nembutsu (2).... Good-bye."

And the old man retired hastily,—anxious to avoid further converse about the painful event for which he felt himself to have been unwittingly responsible.